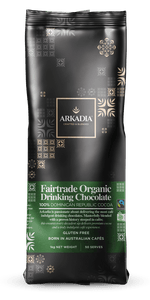 Arkadia Fairtrade Organic Drinking Chocolate 1kg (100% Dominican Republic Cocoa)
Regular price $19.95 Sale
Arkadia Drinking Chocolate (Organic Fair Trade) is a blend that delivers on every level. Crafted and blended using ethically sourced, organic cocoa and sugar, you can feel positive about serving this drinking chocolate. It's not just the growers and environment that are going to be thankful; the taste brings sweetness, creaminess and cocoa all in equally indulgent measures. The fair trade organic cocoa has malty undertones with a hint of vanilla and hazelnut to lift the flavour profile that perfectly balances the natural earthiness of the cocoa. This drinking chocolate is sure to leave everyone with a smile on their face.
Tested and Certified as Gluten Free
Australian certified organic and Fair-trade certified (FLO ID: 23893)
Organic fair-trade raw cane sugar, organic fair-trade cocoa powder, organic skim milk powder, natural flavour, salt. 
May contain traces of milk.