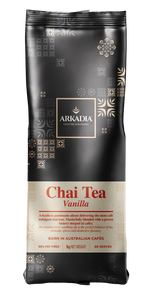 Arkadia Chai Vanilla 1kg
Regular price $17.50 Sale
Experience true cafe indulgence with Arkadia Chai Tea Spice with a hint of vanilla and black tea base and a secret blend of exotic spices for an aromatic delectable beverage. Arkadia's signature brew follows traditional Indian chai tea recipes, savoured for over 5000 years.
Arkadia Chai Tea Latte is Australia's favourite Chai Tea, with more cups of Arkadia Chai Latte consumed in Australia every day than any other brand. It is as versatile as it is delicious, suitable for Chai Tea, Chai Latte, Iced Chai and Chai Frappes. Perfectly balanced, featuring a black tea base and a secret blend of spices for an indulgent beverage, hot or cold. 
Crafted and blended in Australia.
Servings per pack: 50. Serving size 20g 
Free of preservatives, NO artificial colours and No artificial sweeteners. 
98% Fat Free when made according to directions on water
Contains Soy, Contains Milk