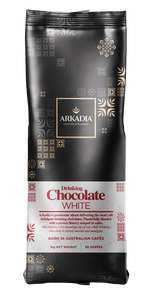 Arkadia Drinking White Chocolate 1kg
Regular price $13.50 Sale
Product Description
Experience true café indulgence with Arkadia White Drinking Chocolate. With a smooth and creamy texture, each sip of this rich, milky delight will melt in your mouth. A blend containing dairy and the finest white chocolate flavour, this gourmet beverage boasts a taste profile of the finest white chocolate.
Contains no artificial colours, preservatives or artificial sweeteners.
Can be used as hot white chocolate, Iced white chocolate, white mocha (with espresso), Frappe, Milkshake or Smoothie with Fruit e.g. Strawberries.
Servings per pack: 50. Serving size 20g 
Dietary
Ingredients:
Sugar, glucose syrup solids, vegetable oil, maltodextrin, flavours, milk solids, vegetable gum (466), salt, emulsifiers (471, 481, soy lecithin), stabilisers (339, 340, 451, 452), anticaking agent (551), antioxidant (370b). Contains Milk & Soy products.