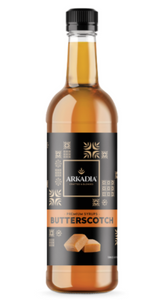 Arkadia Butterscotch Syrup 750ml
Regular price $15.95 Sale
PRODUCT DESCRIPTION
Arkadia premium Australian-made syrups add an extra special twist of European flair to your coffee menu and open up a whole world of options to create your own unique beverage's to suit the season and your café. And why stop at coffee? Arkadia syrups offer a perfect balance of flavour and sweetness and when combined with Arkadia beverage powders, the syrup range can be used to create endless flavour creations for your menu, both hot and cold. 
Developed by our flavour masters and made in Australia, Arkadia Premium syrups delivers superior taste and quality, which your baristas and cafes will love.
Arkadia Butterscotch Syrup 750ml
Arkadia Premium Butterscotch Syrup is ideal for sweetening and adding a touch of Butterscotch flavour to your favourite coffee or hot chocolate, or blend with ice for a refreshing Butterscotch frappe.